Schwarzman Scholars Program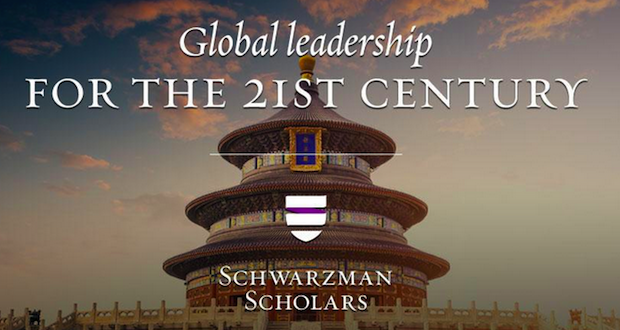 deadline: 28 августа 2017
About
---
Each new cohort of Schwarzman Scholars will join a global network of the world's most talented young leaders, helping to build stronger links between China and a rapidly changing world.
The Schwarzman Scholars experience is anchored in a rigorous and innovative master's degree program at Tsinghua University, one of the country's leading universities. Drawing on the best traditions of Tsinghua and top academic institutions around the world, the curriculum bridges the academic and professional worlds to educate students about leadership and about China's expanding role in the world.
The program also provides Scholars with unparalleled learning opportunities with leaders from China and the world through high-level interactions at lectures, an internship program, a mentors network, and intensive deep-dive travel seminars.
Eligibility
---
Undergraduate degree or first degree from an accredited college or university or its equivalent. 
Applicants who are currently enrolled in undergraduate degree programs must be on track to successfully complete all degree requirements by August 1, 2017 before orientation begins. There are no requirements for a specific field of undergraduate study; all fields are welcome, but it will be important for applicants, regardless of undergraduate major, to articulate how participating in Schwarzman Scholars will help develop their leadership potential within their field.

Age Requirement.
Candidates must be at least 18 but not yet 29 years of age as of August 1, 2018.

English language proficiency.
Applicants must demonstrate strong English skills, as all teaching will be conducted in English. If the applicant's native language is not English, official English proficiency test scores must be submitted with the application. This requirement is waived for applicants who studied at an undergraduate institution where the primary language of instruction was English for at least three years of the applicant's academic program.  The requirement will also be waived for applicants who have studied in English for three or more years at a Master's degree level or higher.
Cost
---
There is no fee associated with applying to the program. Semi-finalist interview expenses, such as economy class air or train travel, group meals and one night in a hotel if needed, will be arranged and covered by the program. Expenses for Schwarzman Scholars are also fully covered by the program, including the following: tuition, fees, room and board, travel to and from Beijing at the beginning and end of the academic year, in-country study tours, required course books and supplies, a Lenovo laptop and smartphone, health insurance, and a modest personal stipend.
Application
---
Required forms and records include:
A complete and successfully submitted online application, including the requested personal statement(s) and supplementary components below.
Uploaded transcripts/academic records from every college or university attended (degree or non-degree, full or part-time, undergraduate or graduate). If transcripts are not in English, official translations must be included.
Three electronic letters of recommendation. Three recommendation letters will be required. At least one of these letters must come from a recommender who has had direct experience with the candidate and can describe the candidate's leadership potential.
An essay in three sections: The essay falls into three distinct sections.

Personal Statement (up to 750 words): Describe your professional interests and values and how the Schwarzman Scholars program and deeper knowledge of China will help advance your goals. Describe both your short-term objectives for the 1-3 years after the program and your long-term aspirations.  How will you contribute to the community of Schwarzman Scholars and to the program's mission?
Leadership Essay (up to 500 words): Describe one specific example where you exercised leadership. The essay should examine your personal characteristics that constitute your potential for leadership including: the ability to anticipate upcoming trends; the ability to inspire others to join in an effort to create change; and the character, values, and determination to persevere despite difficult and changing circumstances; or any other personal characteristics that you think are key to your success as a leader.
Current Affairs Essay (up to 500 words): Choose an issue in contemporary social, international, business, environmental, diplomatic, arts, or other policy that is of interest to you. This essay should lay out the current factors and trends influencing the topic and make a realistic recommendation of how local, national, or international leaders should intervene to contribute to a more peaceful and prosperous future.

Current resume/CV
Institutional Assessment Form: Currently enrolled undergraduate students must request an assessment from their university using the Schwarzman Scholars Institutional Assessment Form. The form asks brief questions to help the selection committee understand the student in the context of the university and does not consist of a full endorsement letter. This will be completed by different offices, depending on the university. In many universities in the United States, this form should be completed by the Fellowships Office or a comparable university-wide service office. In other universities, it might be completed by the dean of students or the university registrar.
Tweet
Share